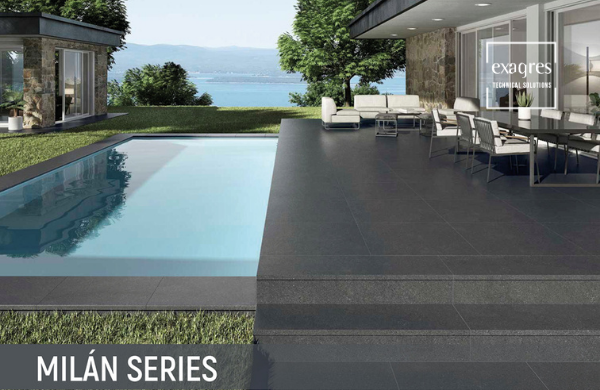 With the imminent start of spring comes a wave of pool and terrace renovations swimming pools and terrace aimed at turning these spaces into the focal point of new projects over the coming months.
What is the biggest pool trend this season? Which is the best pool construction material? These are just two of the questions people ask themselves when undertaking a swimming pool renovation project. With the new season just around the corner, now is the time to look for ideas and get to work on making preparations for the good weather.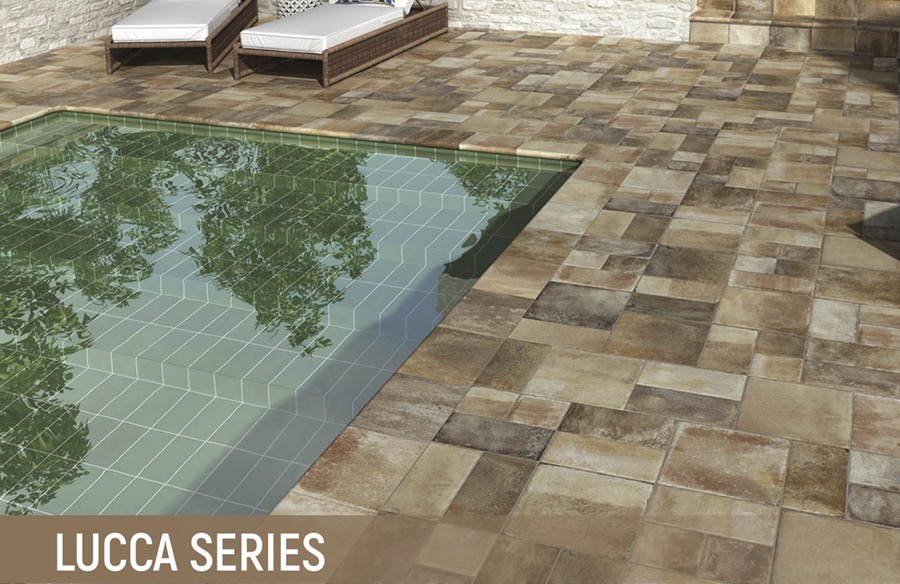 POOL TYPES
A variety of constructions solutions exist when planning a pool renovation. Current trends are clearly focused on two specific types: swimming pools with an overflow edge, which include the infinity and lake effect pools; and swimming pools with the skimmer system, a more traditional but highly effective design.
– Overflow pools: increasingly more common in the residential sector, these spectacular pools offer visual effects of great aesthetic beauty. This is a highly attractive and extremely functional option for swimming pool renovations. Furthermore, these overflow systems keep the water clean and remove the need for any bottom cleaning.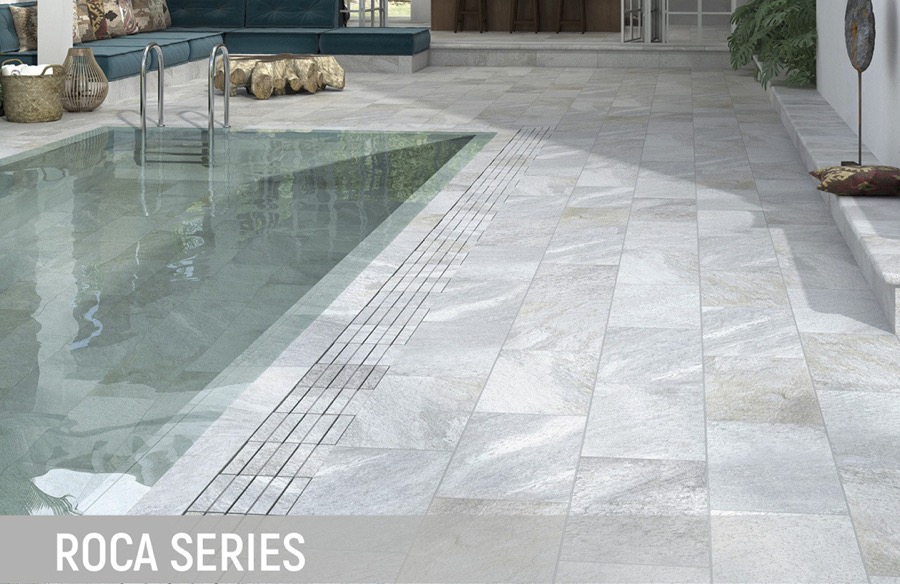 – Skimmer system pools: a more classic choice but tremendously convenient, the latest trends in swimming pool renovations are leaning towards aesthetic integration with the surrounding environment to create incredible visual continuity through the use of design for the pool edge, in the pool surround area, terrace and even inside the home. These pool designs are highly functional and maintenance is very simple.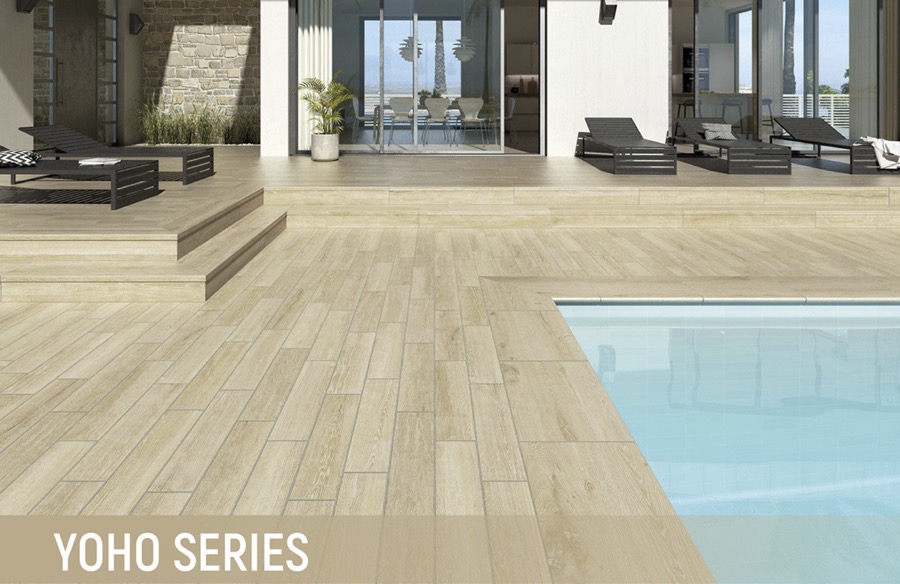 Regardless of which you choose, a good construction material is essential for both designs. Extruded tiles are the most suitable material for undertaking such projects as it is the strongest and longest lasting in the market, also capable of offering such amazing qualities as non-slip surfaces, easy cleaning and strong hygiene. Moreover, all this comes in a huge range of different designs.
SWIMMING POOL RENOVATION: THE IMPORTANCE OF SPECIAL PIECES
One of the most important factors in any swimming pool renovation is the ability to use special pieces to solve problems related to covering all the unique sections of any design, thereby enabling guaranteed success for all sorts of projects.
The Exagres catalogue includes all the special pieces needed to renovate swimming pools; from different ceramic edge pieces and grating to corners, internal coves, external cove and internal cap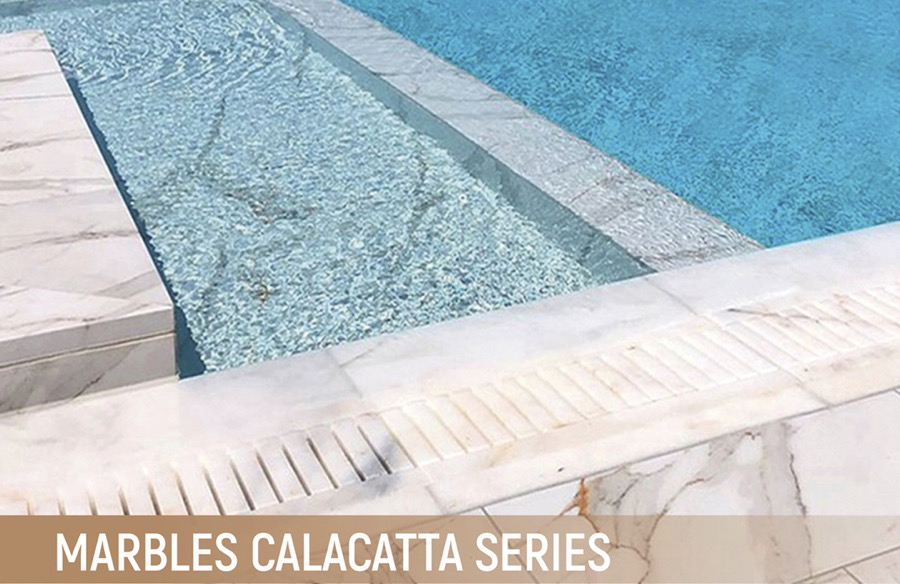 Another of the innovative options for terrace and pool spaces comes in the form of the ceramic decking, Exadeck. A perfect alternative to the standard wooden or resin decking, this construction solution from Exagres combines such properties as strong resistance against extreme weather conditions, zero water absorption and thermostability with an ultra-realistic and very modern wood-inspired design.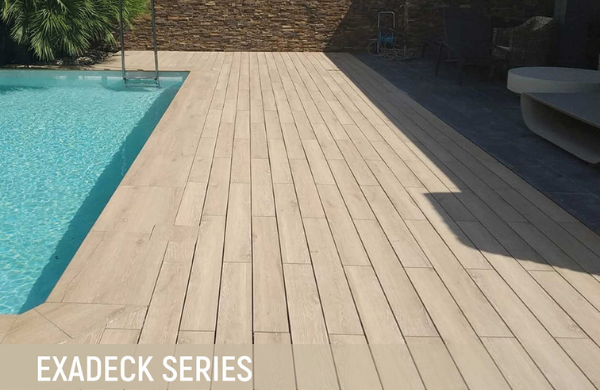 DO NOT HESITATE TO GET IN TOUCH WITH US IF YOU NEED SOME PERSONALISED ADVICE ON YOUR NEXT POOL PROJECT. WE WILL BE GLAD TO HELP!