Hassle-free Outdoor Terrace Deck Tiles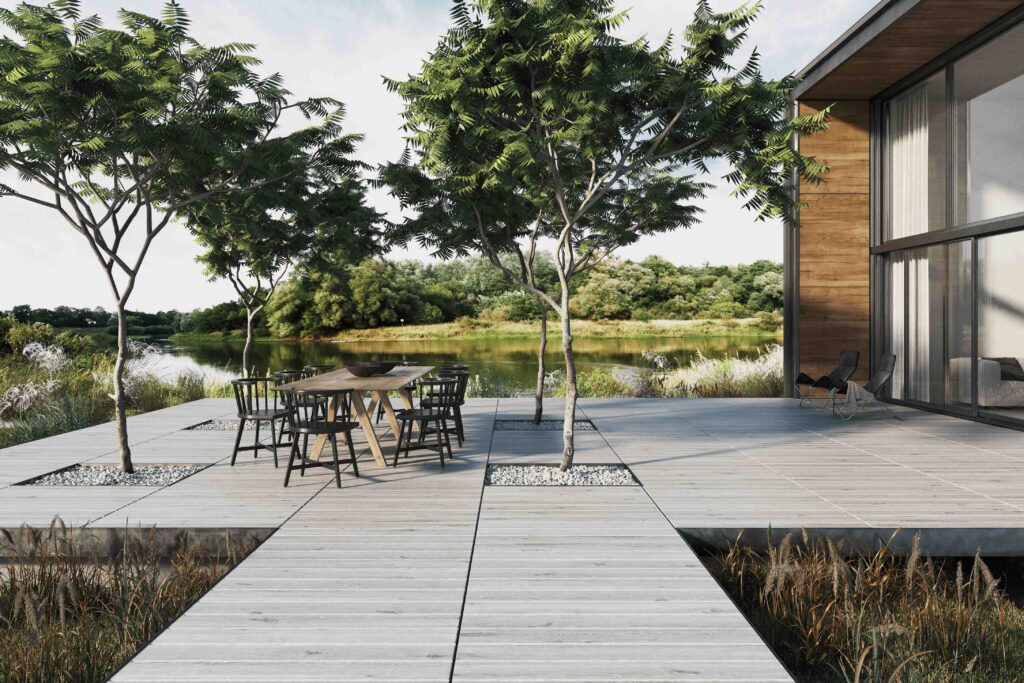 One of the most interesting and increasingly popular ways to renovate a terrace is to install materials that can be laid without the inconveniences that come with regular construction work: noise, rubble and considerable time investment. Within the construction and renovation sector, easy-to-lay hassle-free outdoor terrace deck tiles made from strong, long-lasting and aesthetically attractive materials are a huge favourite. The new and innovative ideas from Exagres in this field include the ceramic deck or 20 mm thick tiles, both of which are especially designed for outdoor spaces.
Easy-to-lay and hassle-free terrace deck tiles
Exadeck, the exclusive ceramic decking product from Exagres has positioned itself in recent seasons as the favourite construction alternative among those choosing a material from the various hassle-free outdoor terrace deck tile options available in the market, both sector professionals and end users.
This innovative extruded porcelain decking consists of ceramic tiles that are quick and easy to lay on supports using permanent or movable clips. This system brings huge advantages to any project seeking to renovate a terrace hassle-free.
The advantages of Exadeck
No specific tools are needed, it is quick to install and no screwing or drilling is required.

Fire-proof. Class A1

The only ceramic decking in the market

100% sustainable material.

Strong and long-lasting; always looks as good as new.

C3 · R11/R12 non-slip surface.

Withstands the most adverse weather conditions.

Very low porosity; stain-resistant and easy to clean.

Antibacterial surface.

Attractive wood-effect design.

Installation versatility: terraces, rooftops, porches, gardens, swimming pools, etc.
20 mm stoneware tiles | Ardenas Thickened
The latest products launched by Exagres for outdoor areas include the new 20 mm thickness in the stone-effect Ardenas collection. The range of possibilities offered by these tiles for hassle-free terrace flooring has been broadened with this new product, which comes in a 60 x 120 format and four different colours: Antracita, Gris, Cromo and Marfil. This option enables all sorts of quick, clean and simple renovation projects with a highly natural-looking finish.
The advantages of a 20 mm thickness
Easy to install and replace; no sealing required.
Easy to clean.
C3 · R11/R12 non-slip surface.
Highly resistant to stains, moss and mould.
Low maintenance cost.
Abrasion resistance, flexing resistance and impact resistance.
Frost-resistant and resistant to sudden temperature changes.
Versatility; it can be installed on grass, gravel, raised flooring systems and traditional systems.
Environmentally friendly material.
There are other alternatives in the market for changing your terrace flooring hassle-free. There are other alternatives in the market for changing your terrace flooring hassle-free. These include composite flooring, wood or resin decking and artificial grass. Although these options offer a rather appealing low installation cost, they eventually end up costing more in the long term because these materials do not offer the resistance, durability or finishes of extruded tiles or porcelain tiles. As a result, these cheaper options are now being avoided for modern terrace decking projects. .