After a long day, once we arrive home, we do need a relaxing space to rest. The bathrooms have become in these personal oasis, and its cladding and decoration should be in line with these values.
As it is a wet area, bathroom floors and walls, especially the shower floor area, must have the highest technical performance to be preserved over time.
The first step when choosing shower floors and other bathroom coverings is to study the available space carefully, since, depending on its characteristics, we can choose a type of format or design. If it is a small bathroom, light colours will visually increase the space and to provide a little more dynamism, small pieces will give that retro-modern touch so sought after by professionals.
Natural product line, Gresan, it is characterized by its innovative small format pieces and original finishes with designs inspired by nature. Gresan Small Tiles features geometric shapes that combine the classic style of extruded stoneware tiles with the most avant-garde trends for shower floors, indoors, outdoors, and even inside swimming pools.
By combining formats, colours and ways of laying the ceramic pieces, a very modern and eye-catching effect can be achieved. One of the advantages of using the Gresan Small Tile material for shower floors is that it has 6×24.5 cm strips which, depending on whether they are laid vertically, horizontally or in a herringbone pattern, can create different effects.
One of the must-have features of the masonry shower floor is the level of anti-slip, as it will provide security to the users. The Exagres material has the maximum levels of anti-slip demanded, both indoor and outdoor (class 1 and class 3 respectively)
In addition to the technical importance, the aesthetic variety available is also taken into consideration. The Gresan series, with a line designed for shower floors, indoors and outdoors, has a wide range of styles divided into the natural collections, -characterized by the de-toning of its pieces and irregular texture through inlays- and enamelled collections -featuring small format and original finishes which fit the trend at the forefront.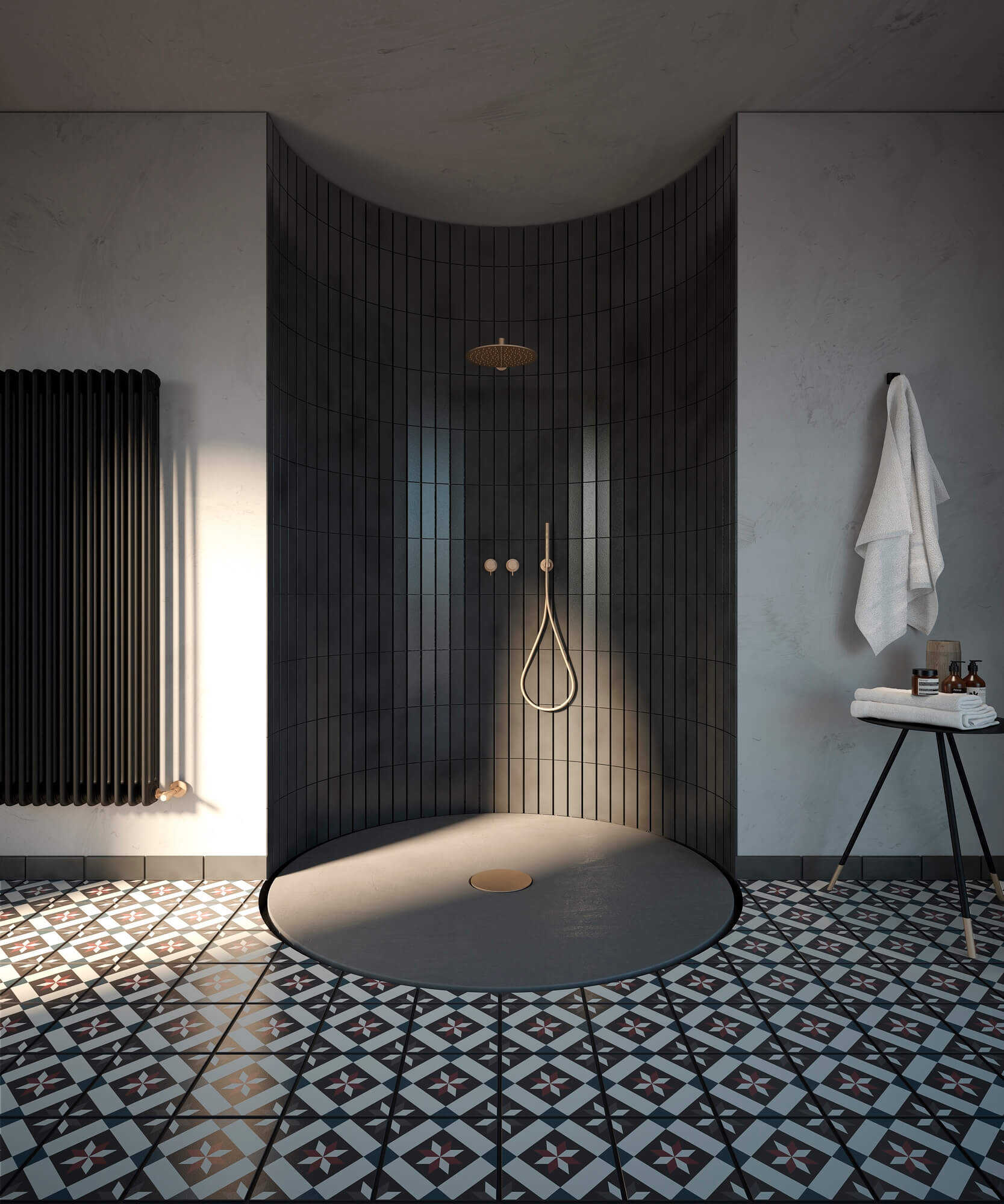 Anti-slip shower tray floor
Safety in the shower is crucial when choosing the material for its construction, as it is key to guarantee the protection and safety of users. One of the great advantages of Exagres extruded stoneware is the possibility of incorporating an anti-slip shower tray floor, as the material has the highest levels of slip resistance (C1 for indoors and C3 for outdoors).
Being a material of extreme rigidity, character and severity, shaped to withstand high degrees of mechanical and chemical resistance, it is ideal for shower floors.
Its low porosity and low water absorption is another characteristic that gives the anti-slip shower floor, thanks to this, and the other characteristics mentioned above, maximum safety for users and durability over time is achieved.
Garden areas or terraces with swimming pools are increasingly incorporating elements that previously belonged only to indoor spaces. Outdoor showers have become another component of garden landscaping, creating relaxing and modern spaces.
In order to turn these areas into a personal oasis, it is important to bear in mind that the outdoor shower floor must have different technical features to withstand the weather and prevent slipping.
The basic property of this type of shower floor is its anti-slip level, featuring the highest level (Class 3), suitable for outdoor areas, and guaranteeing the safety of people.
At Exagres we have different styles of outdoor shower floor coverings from porcelain stoneware, wood style, cement, marble... Depending on the style you are looking for your shower area, you can create a more modern or rustic ambiance.Contact us!