Modern Swimming Pool Edge Pieces: types and characteristics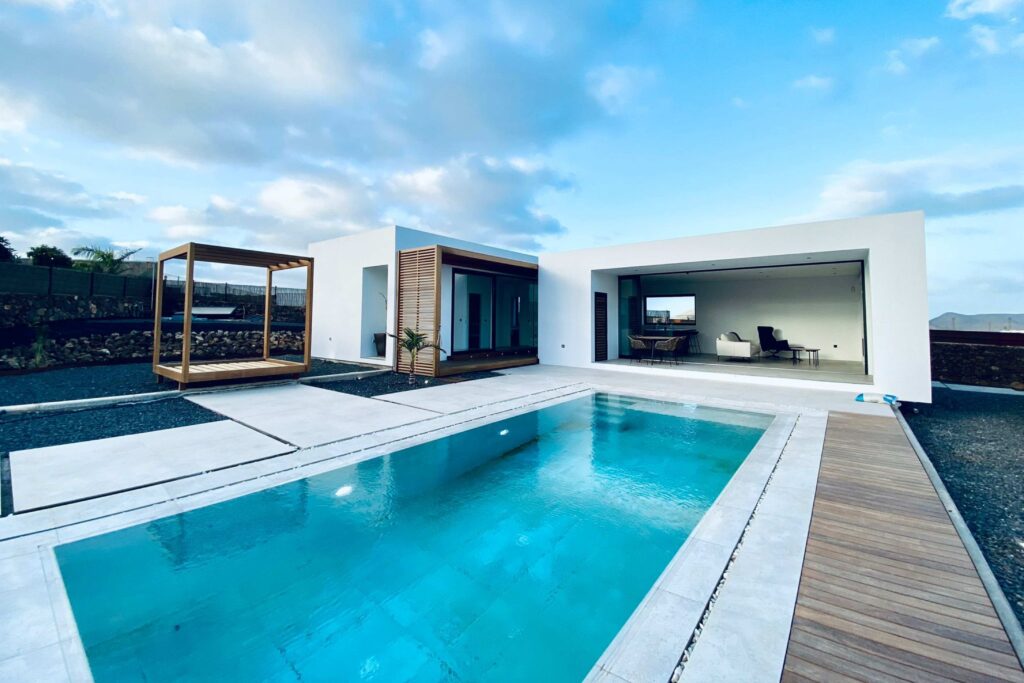 The edges of modern swimming pools have changed a great deal in recent years following some significant technical and aesthetic improvements. Available in numerous shapes and sizes, the edge pieces for modern swimming pools from Exagres stand as the best option when designing and building any kind of private or residential swimming pool, public swimming pool or projects in the contract .
Modern Swimming Pool Edge Pieces
The modern swimming pool edge pieces made from extruded tile come in various categories. Beyond the classic Finnish edge, the square step tread or traditional rounded edge, they include the outstanding Skimmer edge from Exagres and the overflow edge, the latter being used for lake-effect pools such as the infinity . These modern swimming pool edge pieces are currently the option of choice among architects and builders due to the versatility they offer during the design and installation of swimming pools, particularly IN&OUT&IN designs.
Types and characteristics of swimming pool edge pieces
Reinventing the Skimmer Edge
The Skimmer is one of the most common pool coping systems and is highly popular in swimming pool construction. The Skimmer coping system is a classic choice, but one that has undergone some major technical and aesthetic innovations in recent years. One of the most important is the innovative Skimmer edge from Exagres. Decorated on all sides, its curved shape and 45 x 75 x 3 format offers great installation versatility because it can be used at both pool deck level or at a raised level to provide a great look that is perfect for integrated IN&OUT designs.
Incredible Swimming Pools with an Overflow Coping System
The infinity and lake-effect pools are genuinely beautiful to look at. The most outstanding feature of these pools is the use of overflow coping systems. The use of these systems for modern swimming pool edges has become increasingly more common because of their undeniable beauty, but especially because they keep the water surface clean, crystal-clear and constantly refreshed. For optimal construction and a perfect finish, other specific pieces and technical solutions are needed for this type of edge system besides the overflow edge pieces, such as the overflow corner and the corner grating.
Catalogue of Swimming Pool Edge Pieces
The Exagres catalogue includes numerous options for modern swimming pool edges, including the Skimmer and overflow systems. Among our extruded tile collections, you will find various designs for your upcoming projects. This high-performance material is available in marble-, cement-, stone- and wood-effect finishes and, besides being ultra-strong, long-lasting, hygienic and easy to clean, includes a complete range of special pieces and C3·R11/R12 non-slip finishes. The perfect technical solution for building any swimming pool.