Floor Tiles for Safe Non-Slip Swimming Pools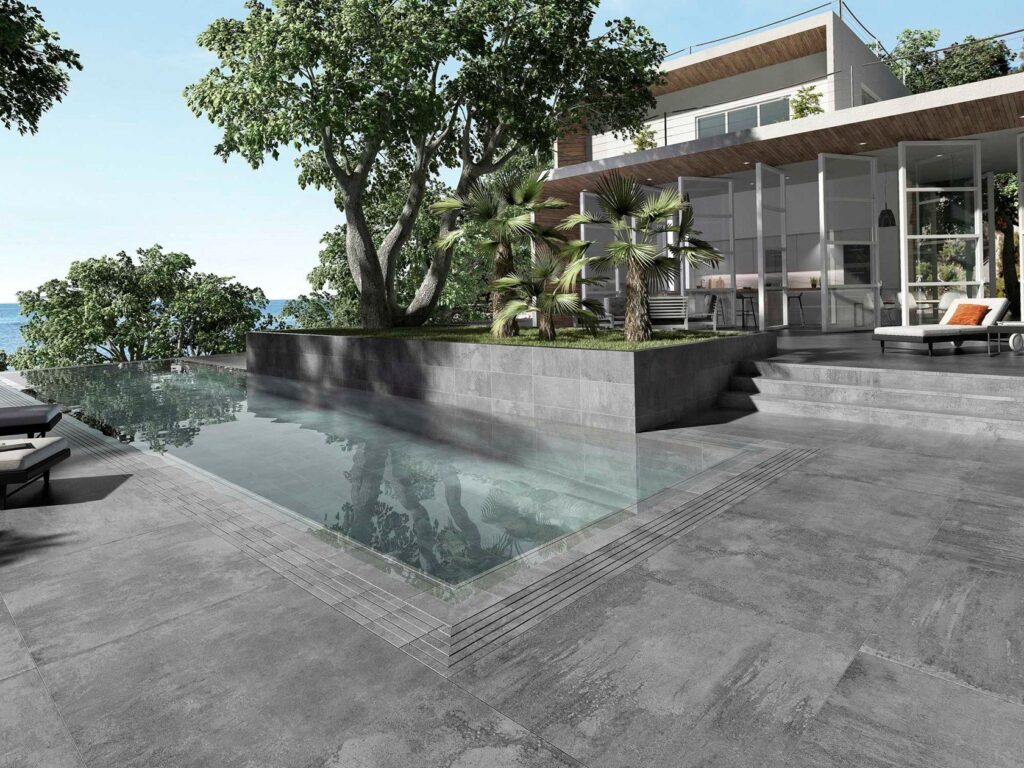 Safety around the swimming pool has become crucially important when it comes to choosing your construction materials, and non-slip floor tiles now stand as the best technical solution
Floor Tiles for Non-Slip Swimming Pools
Swimming pool floor tiles have evolved significantly over recent years in terms of user safety. A constant effort to innovate from the ceramics industry has led to materials that combine the ultra-strength and durability needed for this kind of space with high-performance safety features and beautiful aesthetic finishes. It is in this field where Exagres has positioned itself as the benchmark brand in the sector, offering global technical and aesthetic swimming pool solutions embodied in collections designed to meet all the necessary constructive requirements. These solutions from the company obviously include non-slip swimming pool floor tiles.
The Exagres catalogue includes a wide variety of designs and collections for non-slip swimming pool floor tiles with a C-3 finish, the highest level of safety against possible slips and falls on a wet floor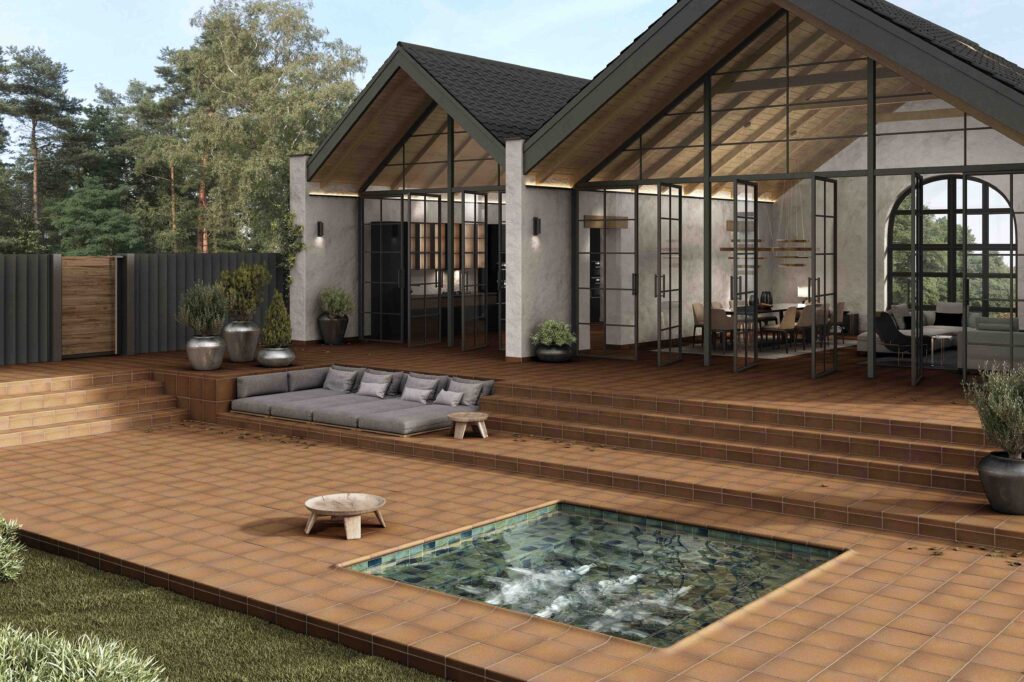 Characteristics of outdoor swimming pool floor tiles
Swimming pool floor tiles need certain specific features due to their location outside and their constant contact with water. The user safety this environment must offer is the most important aspect, as well as the strength and durability of the material used.
There is no doubt that the safety of swimming pool floor tiles is the most important aspect to consider when choosing your construction material. Slip resistance and the features offered by the tile in terms of hygiene definitely come into play here.
The non-slip swimming pool floor tiles from Exagres and the Gresan new collections have a C-3 finish, the highest level of safety against slips and falls on a wet or damp floor. Choosing these swimming pool floor tiles is vitally important for guaranteeing a safe space.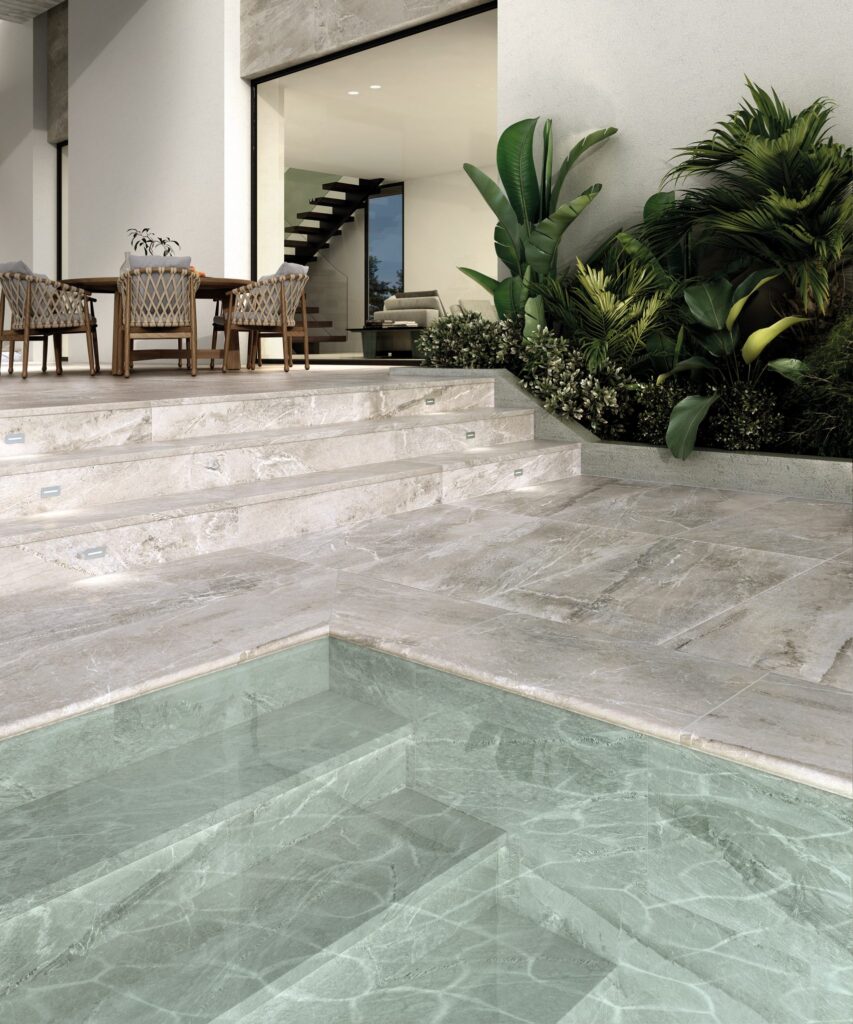 Another characteristic feature of these non-slip swimming pool floor tiles is their hygienic and antibacterial surface. Thanks to the almost zero porosity of the extruded tiles from Exagres, you can choose swimming pool floor tiles with a C-3 non-slip finish that is resistant to damp, stains and the appearance of fungus or bacteria, qualities that make this the safest and most hygienic material in the market.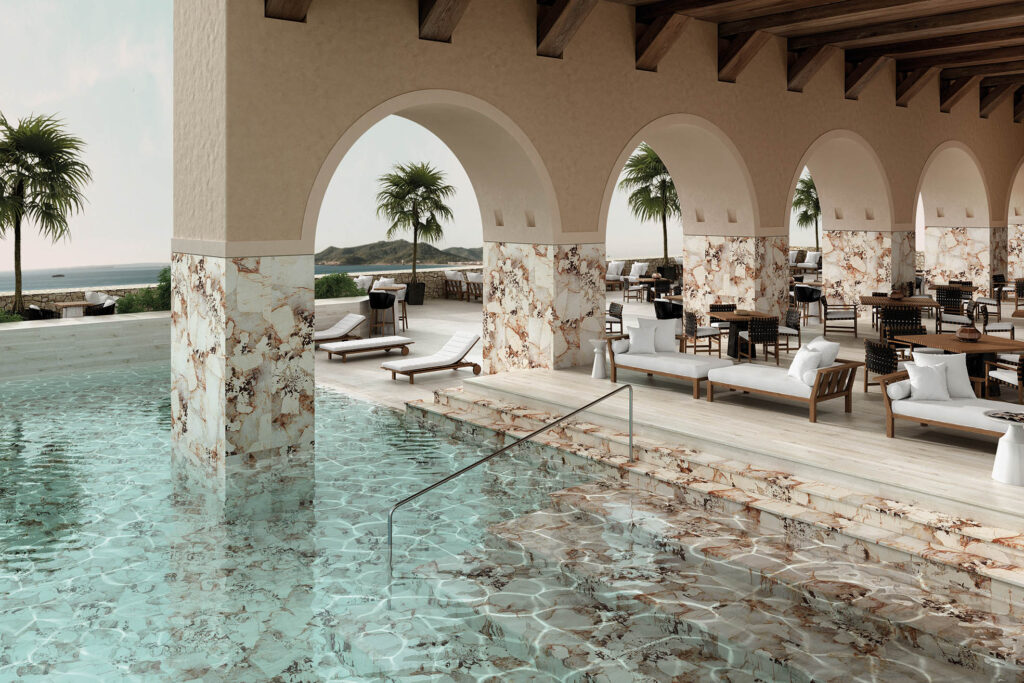 Swimming pool design possibilities are multiplied by the wide variety of designs to be found in the Exagres and Gresan catalogue, ranging from natural stone, marble and wood effect finishes to more cutting-edge ideas inspired by cement. Furthermore, these designs enable fully customised and entirely safe skimmer, overflow or infinity pool spaces to be designed using the wide range of special pieces included in each collection and their non-slip swimming pool floor tiles with a C-3 finish.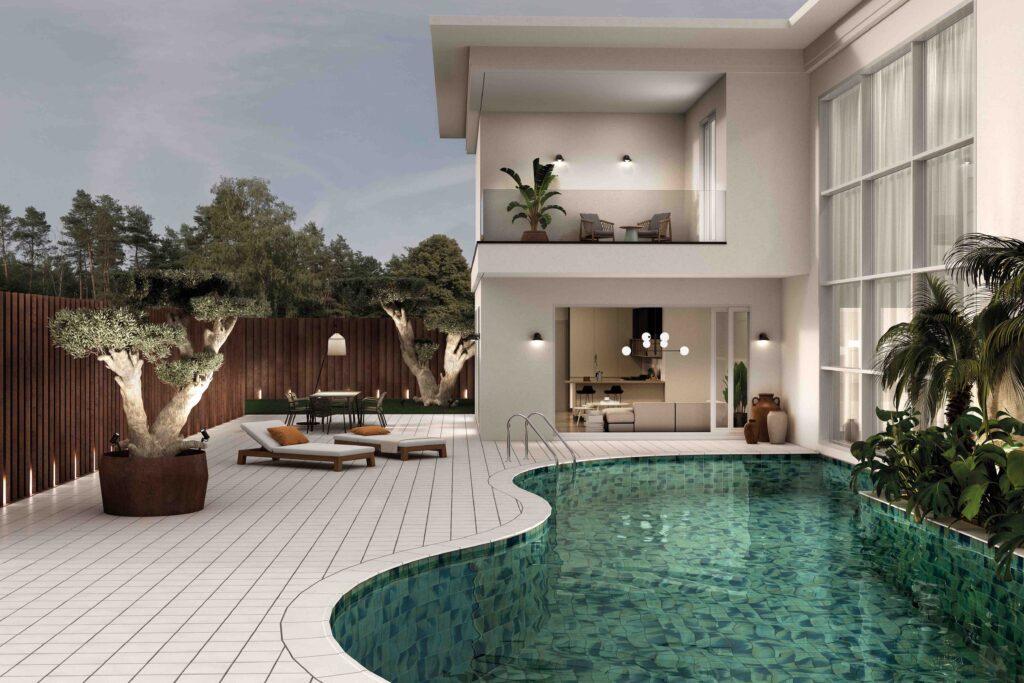 The extrusion-based manufacturing process used by Exagres lends excellent strength and durability to these products. In a space that is constantly subject to external aggression, humidity and chlorine such as the flooring around a swimming pool, it is absolutely essential to use a material like extruded tiles because they are resistant to wear and tear, sudden temperature changes, chemical agents, humidity and stains while consistently maintaining their integrity and appearance, thereby exponentially extending their useful life.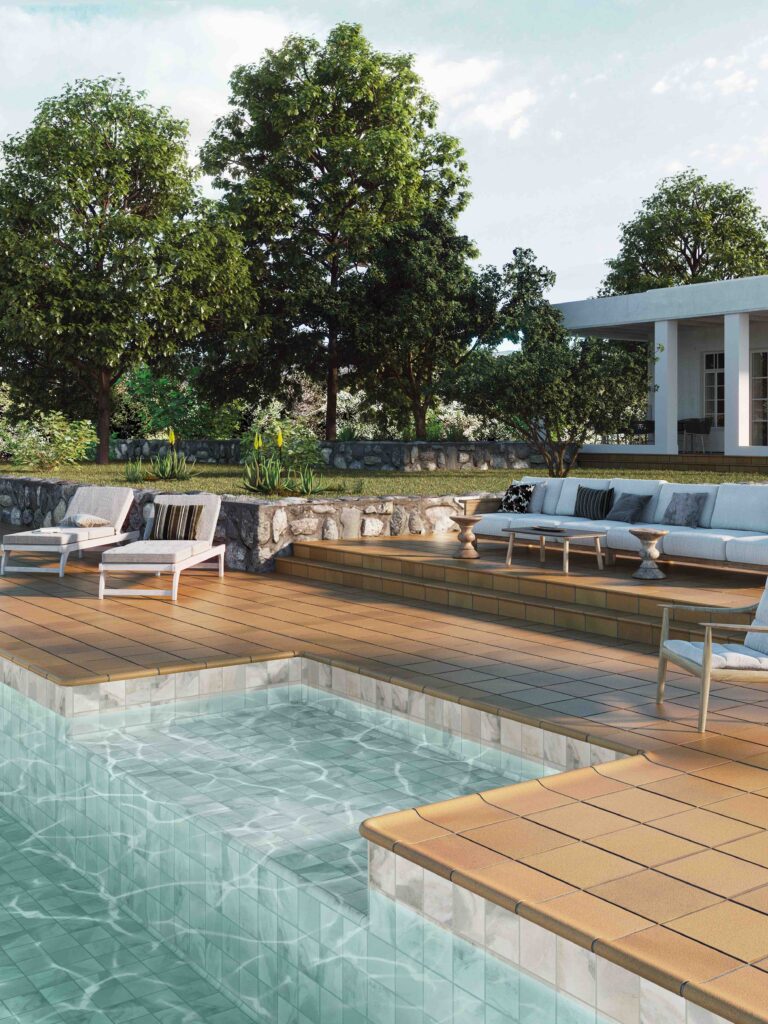 Finally, another of the major advantages offered by the extruded tiles from Exagres is the low level of maintenance required despite the outdoor nature of their installation. The strength and low porosity characteristics mentioned above prevent these swimming pool floor tiles from absorbing stains. They resist environmental dirt and the aggressive nature of chlorine and other chemical agents. This makes them very easy to maintain. Just water and a neutral soap are needed for cleaning them from time to time.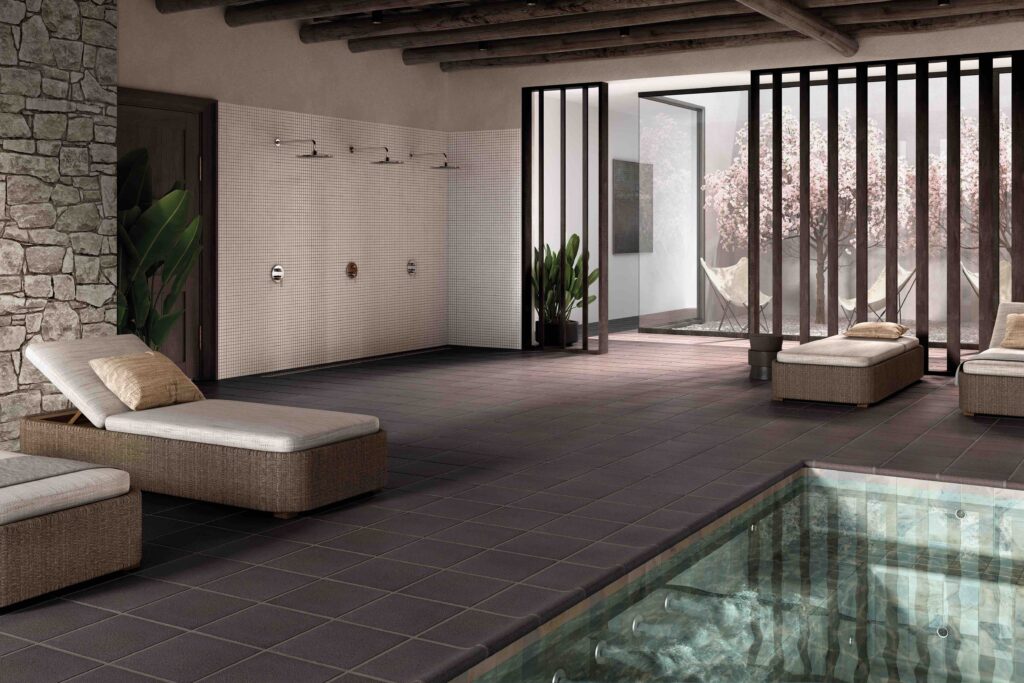 WOULD YOU LIKE SOME PERSONALISED ADVICE ON THE SWIMMING POOL SAFETY ASPECTS OF OUR COLLECTIONS? GET IN TOUCH WITH US OUR TECHNICAL DEPARTMENT CAN ANSWER ANY QUESTIONS YOU MAY HAVE