Remains of food that fall on the floor, footsteps, moisture... kitchen floors are often exposed to various challenges that can damage the flooring if the right option is not chosen. Therefore, when carrying out a kitchen renovation, it is essential to choose a material that adapts aesthetically to our preferences but also has certain technical features that ensure its resistance and durability over time, such as Exagres porcelain stoneware.
Another factor to consider when choosing kitchen floors is the integration of this room with other rooms, such as the living room or dining room. It is becoming more and more common to seek continuity of spaces by using the same flooring in the kitchen and living/dining room.
In order to get quality modern kitchen floors, you need to have the following features.
Flooring for kitchens features
Despite it is true that choosing aesthetically pleasing kitchen floors is often the decision main point, other factors have to be considered as well.

Resistance:
due to the multiple abrasions that kitchen floors endure, it is essential that the flooring chosen is highly resistant and durable. Thanks to the Exagres manufacturing process, extrusion, the result is a high quality, compact and hard porcelain tile with high resistance to high traffic areas, ideal if you are going to carry out a kitchen renovation.

Safety:
as the kitchen is usually a place in constant contact with water and humidity, kitchen floors must be low porosity and featuring an optimal level of anti-slip to avoid possible slips and ensure the integrity of the users. Exagres porcelain floor tiles have a C-1 anti-slip level.

Maintenance and cleaning:
kitchens are areas where stains are commonplace, but by choosing a low porosity Exagres kitchen floor, stains are prevented from adhering and it is also resistant to chemical cleaning products without losing its qualities.

Aesthetic variety:
In addition to all the technical features, kitchen flooring has to be aesthetically beautiful to match the rest of the room. In Exagres we have different types of materials suitable for kitchens, from simulation wood, stone, cement, marble... If you are thinking of a kitchen renovation, you can see all the different designs here. (Link to products).
Kitchen floor refurbishment
With all the design and material options available on the market for changing the kitchen floor, the possibilities are (almost) endless. However, the most important thing to consider when carrying out a kitchen renovation is the requirements of the space, as well as the traffic it will have.
Regarding the trend towards integration of spaces and aesthetic continuity, Exagres offers technical solutions for each type of environment and the option of installing the same flooring in the living/dining room and kitchen after the renovation.
Porcelain floors for kitchens are the most recommended for this type of space due to their high mechanical resistance, low porosity and durability over time.
Nowadays it is increasingly common to find porcelain stoneware in kitchens as, in addition to the advantages described above, they are also very easy to clean, a great benefit when it comes to kitchen floors.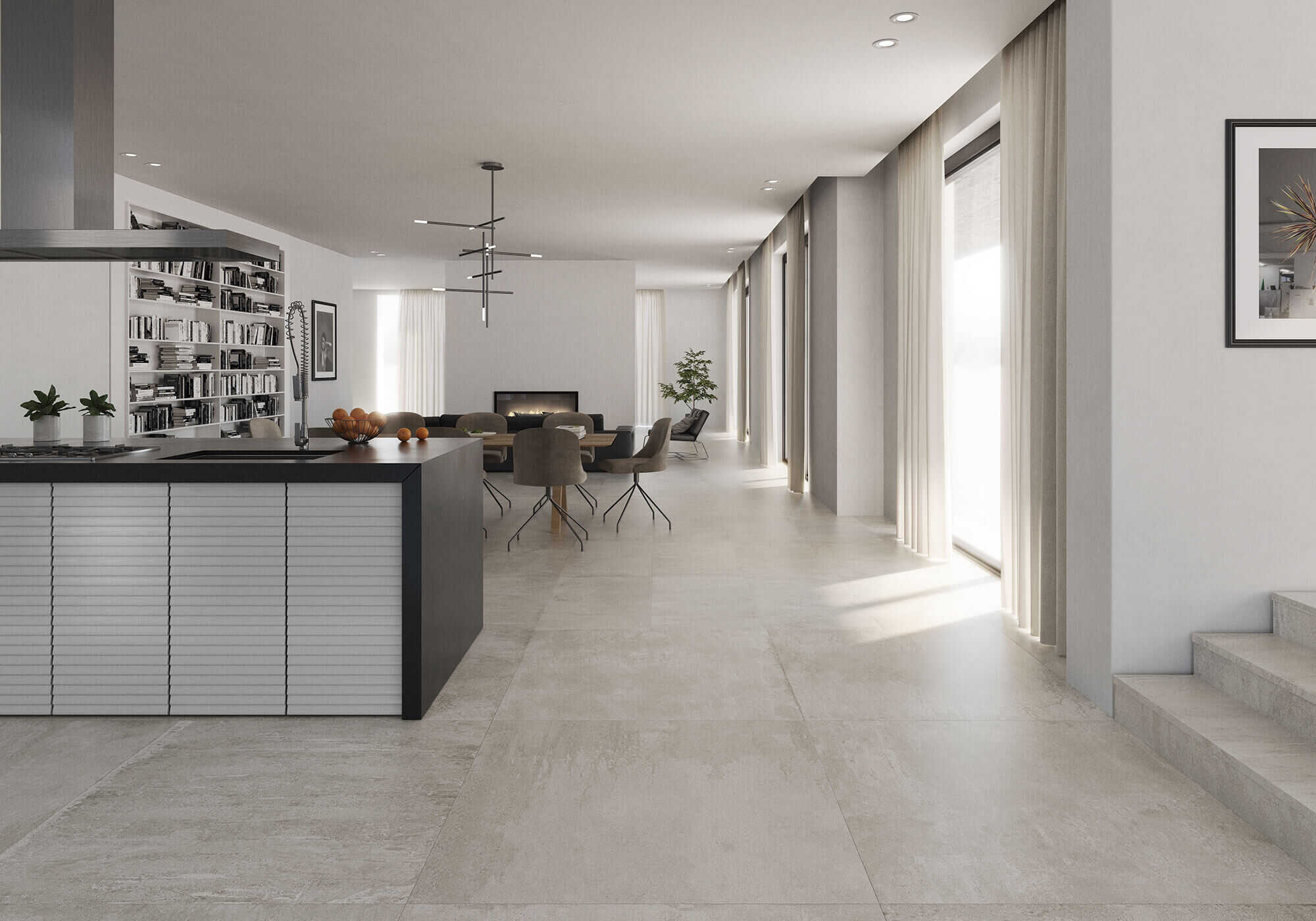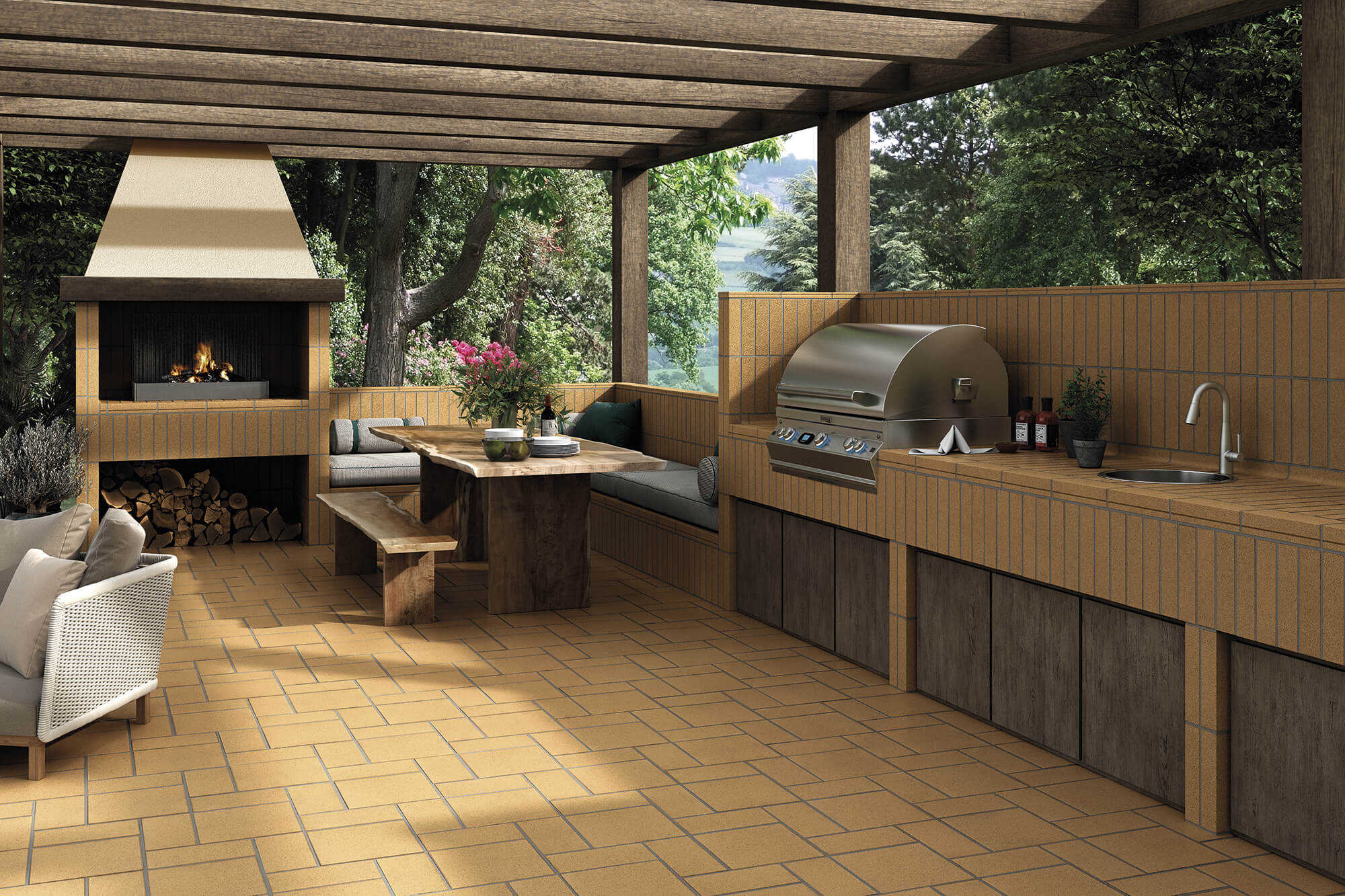 Thanks to the wide range of designs available at Exagres, there are different aesthetic possibilities for professionals in the sector, featuring different finishes and textures that simulate materials such as wood, marble or cement, among others.
If you are going to carry out a kitchen renovation, we recommend choosing large format pieces to get fewer joints and cleaning is easier. At Exagres, we offer pieces until 120x120 cm.
So, the best flooring for kitchens is the Exagres porcelain stoneware, which features the more technical and aesethic output. You can ask us more about kitchen floorings here.