From a wood, marble or natural stone effect to a country style, there's a wide range of design materials for patio flooring. Besides the style, other technical factors must be considered as well since it is a type of exterior flooring which must resist the most adverse weather conditions well and last over time.
Characteristics of patio flooring
Outdoor patio flooring includes all surfaces covering an outdoor area, whether for residential use or public use. It has become a means for in & out spatial integration. Nowadays, thanks to the diversity of materials available from Exagres, the interior and exterior of a home can be cladded with the same floor tiling yet with adaptations for the technical needs for each atmosphere.
Some of the advantages of Exagres patio flooring include:

It's a highly resistant and durable material that can withstand the most adverse climate conditions, heavy people traffic and solar exposure without any change in appearance.

The water absorption is very low which is essential for safe slip-prevention patio flooring.

Along the same lines, another advantage to this patio flooring is the class 3 highest non-slip level.

There is a large variety of formats and designs to choose from ranging from the most traditional such as country-style patio flooring to the most contemporary for modern patio flooring.

And the cleaning and maintenance are extremely simple.
Because of all these advantages, Exagres patio flooring is one of the most popular.
People choose to enjoy outdoor spaces year-round more and more which means it's essential to have patio flooring that transmits wellbeing and relaxation. These areas are usually an ongoing means of passage between a terrace and the interior meaning spatial integration is the perfect solution for expanding the aesthetic continuity.
Although there is an immense variety of materials to choose from for outdoor patio flooring, extruded porcelain tile is no doubt one of the options most often requested by sector professionals wanting to create spaces that simulate wood, stone, marble and other textures all while benefitting from the great technical features of this material.
Here's an overview of a few patio flooring types.
From the most realistic wood to the most sophisticated marble as well as natural stone designs with the most cutting-edge styles, the Exagres collections are the best choices for modern patio flooring as they combine the most innovative designs with the most advanced technical features.
The various collections offered by Exagres in modern patio flooring include the all-new marble collections -Imperial, Venatto, Nubia and Orobico-, wood collections -like Yoho- and stone collections -Milán and Litos, for example-, among others.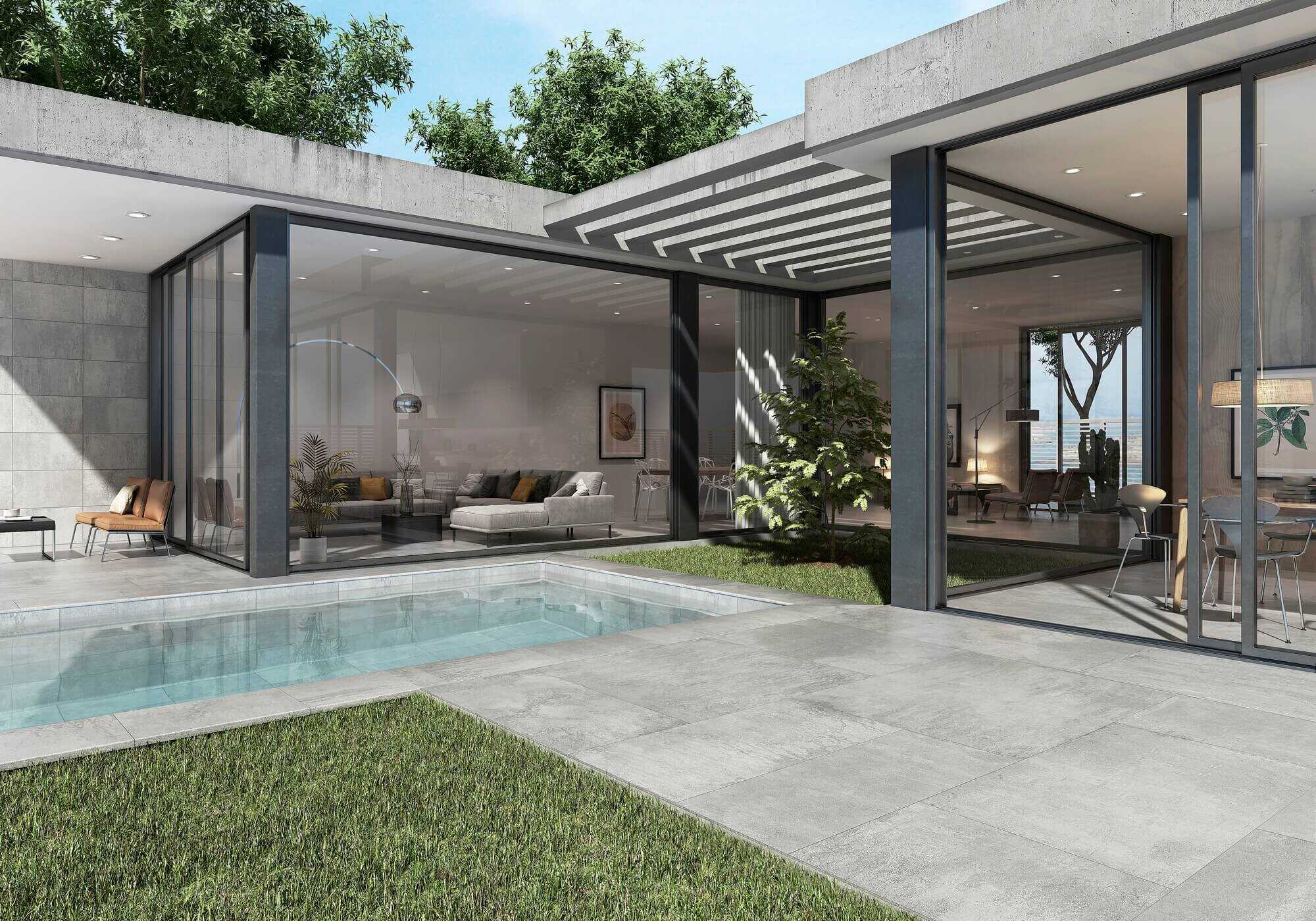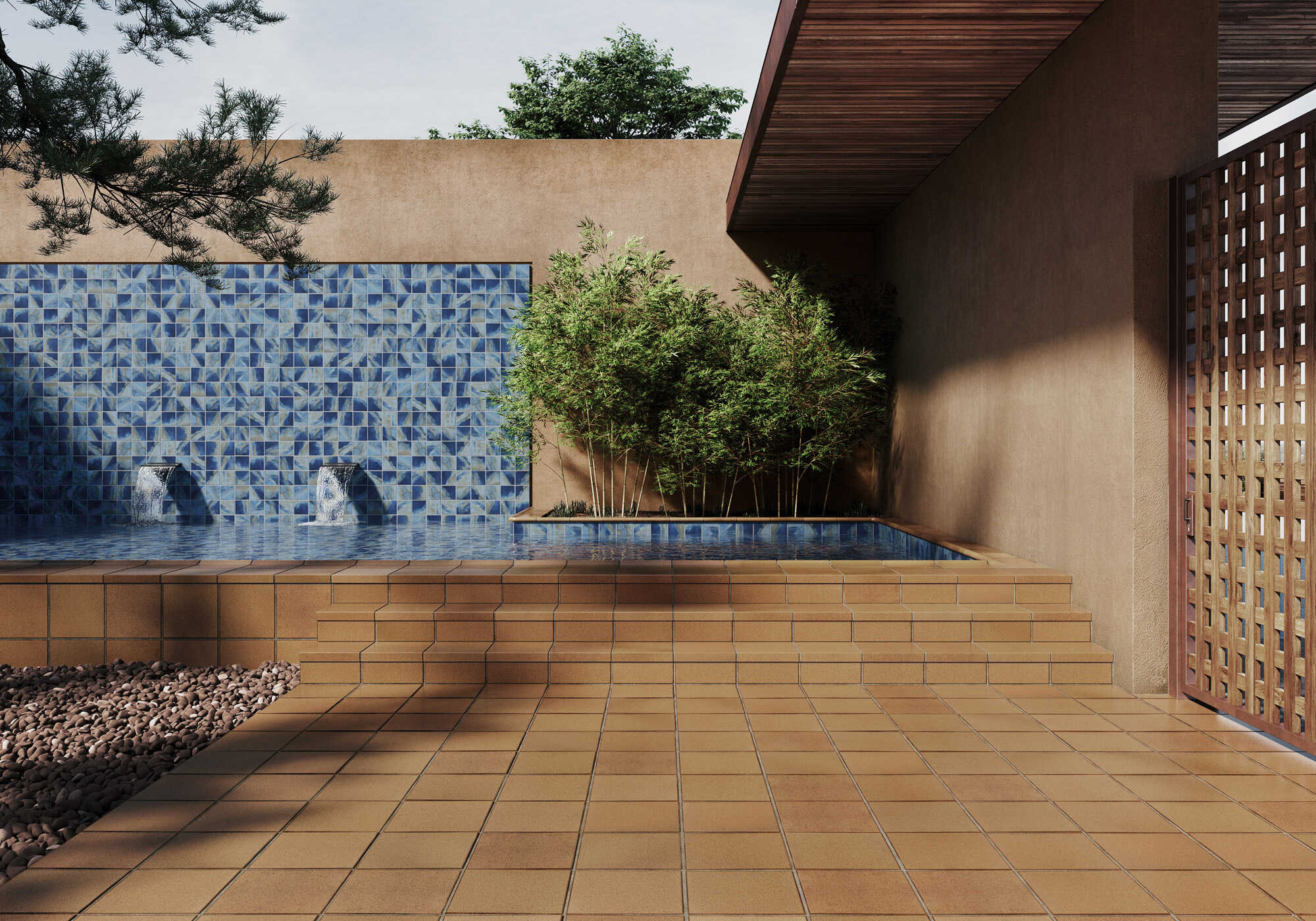 Country patio flooring is usually the most common due to the hardness and earthly tones that reflect warmth and tradition. The Gresan collection by Exagres is a product that transcends decorative trends and adapts to the new demands in patio flooring.
Which flooring should you install in an outdoor patio?
Considering everything already mentioned, various aspects must be taken into account when choosing patio flooring from the most technical to the most aesthetic.
In any case, the benefits of Exagres materials make the question of which flooring to install in an outdoor patio easier to answer: extruded porcelain tile is the best option for this area as it's very resistant and can be used for exterior and interior spatial integration due to all the special parts that are manufactured.